Translate this page into:

doi:
10.25259/AJBPS_6_2022
Microalgae as sources of green bioactives for health-enhancing food supplements and nutraceuticals: A review of literature
1
Department of Agricultural and Food Sciences, Faculty of Agriculture, University of Mauritius

,

Reduit

,

Mauritius
2
Department of Agricultural Production and Systems, Faculty of Agriculture, University of Mauritius

,

Reduit

,

Mauritius

*
Corresponding author: Navindra Boodia, Department of Agricultural Production and Systems, Faculty of Agriculture, University of Mauritius, Reduit, Mauritius. n.boodia@uom.ac.mu
Received: , Accepted: ,
© 2022 Published by Scientific Scholar on behalf of American Journal of Biopharmacy and Pharmaceutical Sciences
Licence
This is an open-access article distributed under the terms of the Creative Commons Attribution-Non Commercial-Share Alike 4.0 License, which allows others to remix, transform, and build upon the work non-commercially, as long as the author is credited and the new creations are licensed under the identical terms.
How to cite this article: Bhagea R, Malleck Hossen A, Ruhee D, Puchooa D, Bhoyroo V, Boodia N. Microalgae as sources of green bioactives for health-enhancing food supplements and nutraceuticals: A review of literature. Am J Biopharm Pharm Sci 2022;2:10.
Abstract
The world population is ever increasing and so is the need to ensure food security. Food production needs to increase by about 70% within the next 40 years to cater for food consumption. Moreover, with increasing collective consciousness toward food supplementation for improving quality of health, the development of nutraceuticals has gained prominence in disease prevention, treatment, and overall health improvement. However, due to the constant controversial debate of food production for consumption against other uses, the search for better alternatives led to microalgae. Species such as Spirulina, Chlorella, Scenedesmus, and Dunaliella, among many others, are important sources of primary and secondary metabolites that play crucial roles in disease prevention and treatment. Understanding the significance of nutraceuticals and how microalgae can be used to produce those value-added molecules is necessary for any potential commercial exploitation. This review discusses the potential of microalgae to be exploited as promising sources of nutraceuticals. Here, essential biomolecules used as nutraceuticals are explored and their crucial roles in disease prevention, especially cancer, cardiovascular diseases, and strengthening the immune system. The composition of microalgae, which makes them suitable candidates to produce nutraceuticals, is discussed. Furthermore, the multifarious aspects of microalgae cultivation, in terms of cultivation systems and factors affecting biomass production and productivity regarding nutraceutical production, are reviewed. The multiple sustainable facets of microalgae culture, which can help in carbon sequestration, fast biomass production, and boosting health benefits, should interest stakeholders and potential commercial producers. Bioprocessing of microalgae for the extraction and purification of microalgae-based products is also reviewed, focusing on the key methods of pre-treatment, extraction, and purification of microalgal biomass.
Keywords
Nutraceuticals
Food supplements
Microalgae
Culture conditions
Secondary metabolites
NUTRACEUTICALS AS VEHICLES OF HEALTH IMPROVEMENT
Since the past few years, health consciousness among consumers has significantly increased due to more readily available knowledge and increasing cases of diseases, leading to positive changes in eating habits and overall lifestyle.[1] Moreover, the health industry's focus is being shifted more toward disease prevention than disease treatment,[2] hence, stimulating the search for alternative ways for disease prevention and treatment, and improvement of overall health. In light thereof, the terms "nutraceuticals" and "functional foods" have been developed, accentuating the famous quote from Hippocrates: "Let the food be thy medicine and medicine be the food."
An introduction to nutraceuticals
The concept of "nutraceutical" originated from a survey carried out in the United Kingdom, Germany, and France about the factors contributing to overall good health, and they concluded that consumers rated diet as the most important one. According to DeFelice,[3] nutraceutical is defined as "a food or part of a food that provides medical or health benefits, including the prevention and treatment of diseases." However, in some cases, nutraceuticals have been defined as formulated products ingested in doses or forms of pills and tablets,[4] or as food that provides the body with the recommended amount of essential biomolecules.[5] This definition may vary among authors, but the basis remains the same: A food (or part of) is considered as a nutraceutical when it provides additional health benefits other than its basic nutritional functions, such as disease risk reduction, treatment, and overall health improvement. On the other hand, food supplements can be defined as products containing one or more dietary ingredients required for optimal nutrition to supplement the diet by increasing the total daily intake of these specific dietary ingredients.[6] The difference between these two concepts is minimal since nutraceuticals are these dietary supplements utilized mainly for health purposes rather than only nutrition.
Even though nutraceuticals and pharmaceuticals appear similar, it is vital to understand their differences. The major difference is that pharmaceuticals are usually composed of high doses of a single compound, while nutraceuticals are generally composed of low amounts of a pool of compounds.[7] Unlike nutraceutical products that use food or specific food components to prevent or treat a specific disease, pharmaceutical products are chemically formulated drugs to achieve the same purpose.[8] Hence, nutraceuticals and pharmaceuticals aim to prevent or treat diseases, but only the latter have government sanctions and are more strictly regulated.[9] Nutraceuticals have gained significant attention as a potential alternative to pharmaceutical products due to the side effects associated with pharmaceutical drug products, the increasing cases of antimicrobial resistance, and the fact that nutraceuticals are comparatively more affordable.[10]
Composition of nutraceuticals
As stated in the previous section, not all the health benefits of nutraceuticals are backed by clinical trials. Nutraceuticals can be considered either potential or established ones,[11] whereby the former promises a specific health benefit and only becomes an established one after undergoing enough clinical trials to confirm the same. Nutraceuticals comprise of an overwhelmingly wide range of bioactive compounds derived from edible sources.[12] They can be classified into different main groups, as shown in [Table 1].[1,5,7,10,13-20] It should be noted that the list of nutraceuticals is continuously changing due to the ongoing research, interest of consumers, and effectiveness and safety usage of the nutraceutical itself.[6]
Bioactive compounds
Examples of bioactive compounds and their edible sources
Antioxidants
Curcumin – turmeric
Catechin – green tea and berries
Proanthocyanidins – grape seed
Lycopene – tomatoes
Dietary fiber
Wheat bran, oats, and fruits
Fatty acids
Omega-3 and omega-6 PUFAs – salmon and algae
Peptides
Casein and lactoferricin – cow's milk
Probiotics
Bacterial strains: Lactobacillus spp. and Bifidobacterium spp.
Prebiotics
Inulin and fructooligosaccharides – onions, leaks, and asparagus
Minerals
Magnesium – almonds and banana
Zinc – Shellfish and spinach
Vitamins
Vitamin A – Orange/yellow fruits and vegetables
Vitamin C – citrus fruits
Antioxidants
Antioxidants inhibit oxidation and prevent damage caused to cells by free radicals. Flavonoids and carotenoids are the two primary antioxidant pigments. Flavonoids are among the most common polyphenols, further divided into flavones, flavanols, flavanones, and isoflavones [Figure 1].[16] Common examples of flavonoids include catechins and proanthocyanidins. Carotenoids are fat-soluble pigments copious in plants and algae, including lycopene, α-carotene, β-carotene, lutein, and zeaxanthin.[21] Both carotenoids and flavonoids are essential in lowering the risk of diseases due to their antioxidant and anti-inflammatory properties. For instance, lutein and zeaxanthin are the carotenoids present in the retina and prevent retinal degeneration by acting as photoprotectants.[22] Furthermore, some vitamins and minerals act as antioxidants, namely, retinol, ascorbic acid, tocopherols, magnesium, manganese, selenium, chromium, and zinc.[13,23,24]
Antioxidants are crucial for optimal cellular health and to prevent diseases associated with free radical damage, such as cancer, Alzheimer's disease, Parkinson's disease, and aging.[25-28] Among the various treatments against Alzheimer's disease, is a promising method where the aggregation of the 42-mer amyloid β protein (Aβ42)is prevented, which a desired condition. The latter was explored with the flavonoid kaempferol, which successfully suppressed the Aβ42 aggregation by preventing amyloid fibril elongation.[29] The potential of this compound was further evaluated on Drosophila flies expressing human amyloid beta-42 and resulted in a delay in memory loss, reduced oxidative stress, and acetylcholinesterase activity with 40 µM of kaempferol.[30]
Other medical conditions such as hyperlipidemia, a group of metabolic disorders, are denoted by hypercholesterol in the blood circulation, which may lead to cardiovascular disease (CVD). A naturally occurring anthocyanin called cyanidin-3-rutinoside has been recently identified as a lipid-lowering agent by inhibiting the formation of cholesterol micelles and inhibiting pancreatic cholesterol esterase by 5–18%.[31] A different metabolic disorder, Type 1 diabetes, is a prevalent health issue without a cure but can be controlled. The flavonoid naringin was identified as a beneficial compound considering its ability to mitigate complications of diabetic ketoacidosis by improving the fasting plasma insulin, hepatic glycogen content, and other related factors.[32]
Neurological diseases have been have been constantly and increasingly under study, sharing similar concerns regarding the lack of cure for metabolic disorders. A widespread disease in this category is status epilepticus (which can be described as a failure to terminate or initiate mechanisms leading to abnormally prolonged seizures).[33] A study that used astaxanthin on rats with status epilepticus indicated an alleviation of neuroinflammation in the brain and alleviated damage caused to their hippocampus.[33] Even neuropsychiatry medical conditions such as depression can be managed with lutein due to its antidepressant-like effect following corticosterone treatment in mice to induce depression.[34] Other conditions such as spinal cord injuries can also be managed (reduced oxidative damage, mitochondrial dysfunction, and cell apoptosis) with the use of different carotenoids such as lycopene due to its antioxidant capacity, as demonstrated in a study on rats administered with the compound (10 and 20 mg/kg).[35]
Carbohydrates and dietary fiber
Carbohydrates are essential primary metabolites that may occur as free sugars such as glucose, short-chain carbohydrates, or polysaccharides such as starch. They are the main source of energy to fuel the human body. Glucose acts as a short-term but immediate source of energy, while fiber, an indigestible carbohydrate, helps with digestion and maintains normal blood cholesterol levels. Important sources of carbohydrates are milk, sugarcane, tubers, rice, whole grains, fruits, and beans, among many others. Plants synthesize glucose during photosynthesis which is then converted to starch, cellulose, and hemicellulose.[36] Starch is the most commonly consumed carbohydrate by humans, while animals such as ruminants can also digest cellulose. Furthermore, carbohydrates are utilized in producing oral nutritional supplements as taste enhancers or inhibitors, energy sources in prolonged fasting, and color, flavor, and texture enhancers.[37] In aquaculture practices, carbohydrates in bread flour, cornflour, and cassava starch are used as energy sources and as binders in the feed production process.[38] Indian major carp is an extensively cultured fish in countries such as Bangladesh, and its feed formulation can contain up to 30% carbohydrates, as a cost lowering measure.[39]
Dietary fibers are non-digestible carbohydrates that the human body cannot break down. They exist as either insoluble fibers (cellulose and hemicellulose) or soluble fibers (pectin and gum) and are mostly present in fruits, vegetables, and whole grains.[5] Dietary fiber is crucial for maintaining a healthy digestive system. In a study conducted by Hou et al.,[40] dietary fibers help reduce inflammatory bowel diseases, namely, Crohn's disease and ulcerative colitis. Furthermore, soluble fibers have also been found to help regulate blood glucose and fat levels.[5]
Lipids and fatty acids
Fatty acids are the building blocks of lipids, a group of fats or fat-like substances characterized by their insolubility in water. Due to the diversity of lipids and their structural variations, a standard classification of lipids has been developed containing eight categories: Fatty acids, glycerolipids, glycerophospholipids, sphingolipids, saccharolipids, polyketides, sterol lipids, and phenol lipids.[41] This classification includes lipids from various sources such as animals, plants, bacteria, microalgae, and fungi. The intake of lipids can be achieved by consuming plants and plant-based products (walnut, fruits, vegetable oils, and grains), aquatic organisms (fish, crustaceans, and molluscs), or even animal-derived products such as milk, meat, and eggs.[42]
Fatty acids can be classified as either saturated fatty acids, monounsaturated fatty acids, or polyunsaturated fatty acids (PUFAs). The latter are widely used as nutraceuticals due to their positive impacts on overall health.[7] There are fatty acids synthesized in very low amounts by the body, called essential fatty acids, which must be supplied through the diet. Those are essentially the main n-3 PUFAs α-linolenic acid (ALA), eicosapentaenoic acid (EPA), and docosahexaenoic acid (DHA). These n-3 PUFAs have positive effects against cardiac disorders, Type 2 diabetes, and autoimmune diseases,[43-45] and they are also crucial for the growth and the healthy development and functioning of the brain and nervous system.[46] Fatty acids are highly involved in metabolic pathways, such as linoleic acid (LA) and ALA, which are the precursors to other PUFAs. LA is the most common and highly consumed PUFA in the diet and helps in growth and development. One of the primary uses of LA is its physiological ability to maintain the transdermal water barrier of the epidermis, and deficiency of this PUFA would lead to skin lesions.[47]
Moreover, n-6 PUFAs have also been found to be involved in health. For instance, arachidonic acid is vital in the healthy development of the central nervous system and retina of newborns and promotes healthy muscle growth in humans.[48] Gamma-linolenic acid, another n-6 fatty acid that can be obtained in human milk, plant seed oils, blackcurrant, and borage,[49] is successful in treating rheumatoid arthritis as it may increase the E-levels of prostaglandins, which, in turn, increase cAMP levels, thus suppressing tumor necrosis factor-α (TNF-α) synthesis.[50] Thus, the dietary intake of PUFAs, especially the n-3 and n-6 ones, is crucial for proper growth and optimal health.
Proteins and bioactive peptides
Proteins are macromolecules that consist of amino acid chains. Proteins and amino acids play dominant roles in the maintenance of body homeostasis. They are critical components for the muscles, enzymes involved in metabolic pathways, immune system (as immunoglobulins), and hormones that control various activities such as growth and many other functions.[51] Therefore, sufficient amounts of proteins in the diet are needed to meet the daily physical requirements.[52]
Bioactive peptides are organic compounds produced when proteins are fermented or digested by proteolytic enzymes.[5] Most bioactive peptides are derived from milk proteins, and they are believed to improve human health. For instance, lactoferrin possesses antimicrobial, anti-inflammatory, anticarcinogenic, antioxidant, and immunostimulatory activities.[53] Furthermore, some bioactive peptides have an opioid-like activity, and they are involved in different processes in the nervous system and the regulation of cytokines in immunomodulatory activity, decreasing blood pressure, and preventing hypertension.[54]
Probiotics and prebiotics
In general, the gut has an abundance of beneficial bacteria. However, intestinal dysbiosis may occur due to antibiotic therapies, poor diets, and stress.[55] Probiotics and prebiotics can help restore the gut microbiota healthy balance and, in turn, improve intestinal health. Probiotics are living microorganisms that benefit the gut microbiota when administered adequately. Probiotic organisms most commonly used include Bifidobacterium, Lactobacillus, and Saccharomyces.[24] It has been shown that probiotics can contribute to the prevention of diarrheal infections and reduce the length of the diarrheal spell in outpatient treatments.[56] On the other hand, prebiotics is non-digestible compounds on which intestinal microbes feed themselves for growth while beneficially impacting the host.[57] The most common prebiotics include oligosaccharides present in fruits, vegetables, and whole grains. Hence, probiotics and prebiotics work together in symbiosis to maintain healthy gut health.
Vitamins and minerals
Vitamins and minerals are considered micronutrients, required in smaller quantities by the body compared to macronutrients. Both are required for the body's normal functioning, except that vitamins are organic substances while minerals are inorganic ones. According to the World Health Organization (WHO), it is estimated that more than 2 billion people worldwide suffer from micronutrient deficiency. The latter can greatly increase the risk of several diseases and health complications: Anemia, reduced cognitive functions, increased risk of infections, and perinatal complications.[58] These micronutrients are mainly obtained from external food sources since most of them cannot be synthesized by the body and play pivotal roles in maintaining health [Table 2] and preventing many diseases.[59]
Micronutrients
Role in the body
Vitamins
Vitamin A
- Needed for healthy vision, skin, and hair
Vitamin B
- Aids energy release from food (B1)
- Required for building and maintenance of tissues (B2)
- Helps in proper development of the nervous system (B6 and B12)
Vitamin C
- Needed for healthy and strong gums, teeth, and bones
- Acts as an antioxidant
Vitamin D
- Required for strong bones and teeth
Vitamin E
- Protects cell membranes from damage
- Helps in blood production
Vitamin K
- Involved in blood clotting
Folic acid
- Helps in building proteins and DNA
- Required for bone growth
Minerals
Calcium
- Required for healthy bones and teeth
- Involved in blood clotting
Potassium and sodium
- Regulation of osmotic balance in cells
- Required for healthy nerve function
Magnesium
- Involved in protein synthesis and regulation of blood glucose
- Required for healthy nervous and muscular systems
Iron
- Formation of red blood cells
- Involved in oxygen transportation
Zinc
- Required for transportation of carbon dioxide
- Involved in formation of enzymes
Nutraceuticals and health
As shown in Section 1.2, most nutraceuticals possess several therapeutic benefits.[6] Either being potential or established, nutraceuticals are famous for their potential roles in the treatment and prevention of CVDs, diabetes, hypertension, and cancer, as well as in anti-aging processes.
Strengthening the immune system with nutraceuticals
Viral diseases are presently one of the leading causes of death worldwide, and their ability to spread is escalating, which could result in pandemics, especially in the case of COVID-19. A healthy diet consisting of nutraceuticals can significantly boost the immune system, optimize cell functions, and fight against several viral infections.[20] Nutraceuticals that have been shown to have antiviral properties include resveratrol, quercetin, curcumin, and epigallocatechin gallate.[14,15,60,61]
In a research study, these nutraceuticals had demonstrated antiviral activities against coronaviruses by inhibiting the viral replication process through regulation of the protease, Mpro of the virus.[62] Moreover, Vitamins A, D, B, C, and E and minerals such as calcium, magnesium, and zinc have significantly strengthened and supported the immune system, allowing the body to combat viral invasions.[20,62-66]
Nutraceuticals against CVDs
CVDs are disorders related to the heart and blood vessels, including coronary heart diseases, cerebrovascular diseases, peripheral arterial diseases, rheumatic heart diseases, congenital heart diseases, and deep vein thrombosis.[67] According to the latest study published by the WHO, an estimated number of 17.9 million people died from CVDs worldwide in 2019. This alarming finding raises concerns and calls authorities to find effective ways in preventing and treating this disease. There is growing evidence showing that some nutraceuticals can lower the risks associated with CVDs. For instance, regular consumption of n-3PUFAs, especially LAs, EPA, and DHA, has been proven to lower the risks of CVDs and diabetes and can also enhance brain development.[7,68]
A study conducted in Japan with 18,645 patients demonstrated that EPA, supplied as 1.8 g in the diet, reduced coronary diseases by 18%.[69] Results were similarly reported in another study, where patients with percutaneous coronary intervention were given early EPA treatment, resulting in a significantly lower death rate at 0.8% than 4.2% in the control group.[70] Another study reported that patients who consumed Annurca apple polyphenol extract increased fecal cholesterol excretion by 35%.[71] Therefore, diets rich in nutraceuticals can potentially be used to prevent and treat CVDs.
Nutraceuticals for cancer prevention
Cancer is the second leading cause of mortality worldwide, and around 35% of these deaths are associated with diet.[1] Nutraceuticals in the categories of antioxidants, bioactive peptides, minerals, and vitamins have demonstrated the ability to prevent certain cancers. For instance, the carotenoids lycopene and β-carotene have antioxidant activity and can prevent cancer by decreasing oxidative stress and damage to DNA.[23,72] Moreover, it has been found that bioactive peptides can reduce the risk of developing certain tumors and enhance the effectiveness of anticarcinogenic therapies.[73] For example, the bioactive peptide lactoferrin possesses antitumor activities without damaging healthy body cells.[74,75] Therefore, a healthy lifestyle and a diet rich in these nutraceuticals mentioned above, along with selenium, Vitamin C, and Vitamin E, can help prevent cancer.[6] However, it should be noted that these studies have demonstrated that nutraceuticals mainly participate in preventing cancer rather than treating the disease, and hence, more research is still needed in this area.
MICROALGAE AS FOOD SUPPLEMENTS AND SOURCES OF NUTRACEUTICALS
Most nutraceuticals are produced from food sources such as fruits, nuts, and certain vegetables. One major drawback of using such food commodities to produce nutraceuticals is that it decreases their availability on the market as fresh food for consumption. Following the Sustainable Development Goals of the WHO, where there is a need to ensure food security and end hunger, food commodities should not be promoted for alternative uses. This tendency would trigger the need to bring more land into agricultural activities and thus lead to deforestation and biodiversity loss. A similar trend was encountered in biofuels production from plant biomass.[76]
Microalgae have been promoted as a biofuel alternative. However, a potential utilization of microalgae in the production of nutraceuticals has emerged. Microalgae are good sources of proteins, carbohydrates, essential fatty acids and amino acids, antioxidants, and some essential vitamins and minerals.[77-80] Due to their high nutritional values, microalgae have the potential to be incorporated into diets as nutrient sources and can also act as nutraceuticals to prevent and treat diseases and maintain optimal health. The following sections will further discuss these primary and secondary metabolites of microalgae.
DERIVING NUTRACEUTICALS FROM MICROALGAE
Microalgae as a source of essential metabolites
The screening of microalgae isolates has gained much attention over the past 15–20 years with the severe threat of global warming and greenhouse gas emissions. Given the depletion of fossil fuels and the need for sustainable renewable biofuels, microalgae are considered third-generation biofuels over plant biomass.[81] Many research studies have been conducted to obtain the species or strains that would produce most carbohydrates for bioethanol and lipids for biodiesel.[82] This situation has led to the publication of numerous research works in this field with information on the biochemical composition of biomass at the macro- and micro-nutrient levels. However, the data available from these works may explore their usage in other fields such as nutraceuticals and food industries.
Furthermore, concerning the biochemical contents, microalgae also look promising for their use as food additives/supplements for human consumption and feed additive for agricultural sectors such as aquaculture practices. With a fast-growing world population (currently of 7.9 billion people), global agricultural productivity has to increase by 70% to meet demands for food supply in the next three decades.[83,84] Food crops, being the base source of macro- and micro-nutrients, are partly diverted to other sectors such as biofuels production,[85] which can decrease the availability of marketable fresh food commodities. Natural disasters are a massive setback for agriculture, influencing food availability and nourishment.[86]
Microalgae may marginally improve food production in agriculture and aquaculture and as a direct source of nutrients. Microalgae are the primary producers in the aquatic food webs that produce carbohydrates, proteins, and lipids. The diversity of microalgae in the marine and freshwater environment is estimated to be more than 100,000 species, with more than 25,000 species already isolated and identified [Figure 2].[87] These photosynthetic organisms are essential components across food chains as they pass on macro- and micro-nutrients to the next level and so on. Carbohydrates such as glucose provide the energy, proteins help with hormones, muscle, and tissue development, while fats act as an energy source but are also involved in the brain and central nervous system development. Furthermore, the metabolic pathways differ considerably from species to species, allowing the synthesis of specific compounds such as fatty acids, carotenoids, and polysaccharides.[80]
Since many microalgae species may possess the ability to produce high-value components, it is more profitable to culture the most productive species or those displaying the most favorable composition. However, this depends on the desired end product and the ease of culture, harvesting, biomass processing, and other downstream processes. Research on microalgae for such end products has been ongoing for many decades to initiate economic growth in the pharmaceutical, aqua-cultural, biofuel, and food production sectors.[88,89] Therefore, before reaching the industrial utilization of microalgae, evaluating their biochemical composition is necessary as they vary from species to species.
Microalgae Graesiella spp. WBG-1 was successfully evaluated as a source of biofuel at the pilot scale.[90] Clinical studies have shown that Spirulina consumption ingested as 6 g/day improved oxygen uptake in high-intensity exercise apart from being a source of protein.[91] Regarding feed use, Arthrospira platensis (Spirulina) was an excellent alternative to improve fish immunity in aquaculture practices.[92]
The world's largest Spirulina producer is Hainan Simai Enterprising, located in China, and has an annual algal powder production of 200 tons. Worldwide, 20 countries (primarily China, Israel, Japan, Mexico, Taiwan, and Thailand) produce Spirulina-based products, such as tablets and powder. Microalgae are also researched for the bioremediation of wastewaters and biofuel production, for instance, Chlorella spp.[93]
Understanding the biochemical composition of microalgae (from species to species) [Table 3] is important for commercial applications, especially in finding the most appropriate strain for a specific task.[94-105]
Microalgae species
Macronutrients (% dry weight)
Proteins
Carbohydrates
Lipids
Arthrospira platensis
62.9
15.6
8.1
Arthrospira platensis
76.7
6.5
2.5
Chlamydomonas reinhardtii
48.0
17.0
21.0
Chlorella vulgaris
31–36
8.8–20.8
24–33
Chlorogloeopsis fritschii
50.0
44.0
7.0
Dunaliella tertiolecta
8.3–31.3
46.5–50.6
18.0–23.5
Lyngbya limnetica
3.1
18.4
14.5
Phormidium autumnale
50.2
22.4
15.6
Porphyridium cruentum
28.0–39.0
40.0–57.0
9.0–14.0
Scenedesmus dimorphus
8.0–18.0
21.0–52.0
16.0–40.0
Scenedesmus obliquus
34.9
23.8
14.3
Proteins
Importance of proteins and microalgae
Microalgae diversity facilitates multiple combinations of primary and secondary metabolites.
Among these combinations, are proteins and amino acids, which play dominant roles in maintaining body homeostasis. Traditional protein sources include meat, eggs, milk, and soybean. From investigations, protein levels from microalgae are comparable to levels from traditional sources.[79] Furthermore, since proteins are composed of amino acids, the composition comparison between some microalgae species and some basic conventional food items share similar patterns.[95] Acquiring protein from microalgae is deemed more beneficial than traditional high-protein crops in productivity and nutritional value. Microalgae can produce a protein yield of 4–15 tons/Ha/year compared to soybean (0.6–1.2 tons/Ha/year) and wheat (1.1 tons/Ha/year).[106] Since microalgae are being prospected for biofuel production, the residual biomass would contain the proteins useful for feed formulations, following lipids and carbohydrate extraction.[88,107]
Commercially important microalgae for protein
Despite the production advantage, microalgae culture on a large scale as sources of food/feed is limited to a few countries due to the costs involved. However, research has identified suitable microalgae candidates that are suitable sources of proteins and amino acids and are currently being cultured at the industrial level. One popular microalgae is Spirulina platensis, a non-toxic cyanobacterium, often regarded as a complete food containing all essential amino acids and can reach up to 62% of protein levels.[108,109] More recent studies on S. platensis produced a protein concentrate that contained 75.97% proteins on a dry weight basis which could help in food/feed formulations.[110]
Chlorella spp. is also a very good source of proteins that can reach a content of 51–58% as dry weight. The amino acid composition of this Chlorophyta microalgae makes it an appealing source of proteins as it contains nearly all of the essential ones.[95] Scenedesmus spp. microalgae, typically investigated for biofuels, tend to yield protein contents between 30 and 55%, and the variations are due to type of strain, culture medium, among other factors.[111] Another commercially produced microalgae is Dunaliella spp., yielding up to 57% protein content.[95] However, this microalgae tends to be overlooked as a source of protein due to its importance in β-carotene production.[112]
High-value protein metabolites
Nonetheless, the microalgae proteins are released in various forms following biomass processing, such as glycoproteins and phycobiliproteins.[113] Early research on Chlorella vulgaris led to the discovery of a water-soluble glycoprotein with antitumor activity.[114,115] An investigation on C. vulgaris glycoproteins indicated a rare occurrence of modified oligomannosidic glycans that have not been found in either plant or vertebrate N-glycans, prompting the need for further investigations as these microalgae are sold as a source of protein.[116]
Other glycoproteins such as lectins are involved in various biological processes, including cell-cell communication, antiviral activities, and antibacterial activities, among many others.[117] In the phycobiliproteins group, phycocyanin and phycoerythrin are the most common compounds produced by microalgae. Phycocyanin is mainly derived from S. platensis and is a natural dye for food products and cosmetics. Phycoerythrin is used as a fluorescent agent for diagnostic purposes and is mainly derived from red algae such as Porphyridium cruentum.[118]
Microalgae-derived carbohydrates and valuable species
Polysaccharides derived from microalgae such as P. cruentum are essential for various applications such as viscosifiers, flocculants, and lubricants for the industrial sector and as antiviral agents in medical applications.[118] The microalgae species that offer the most useful carbohydrate content would be Dunaliella salina, Dunaliella tertiolecta, and P. cruentum, among many others that are commercially cultured [Table 3]. However, recent development in microalgae research has shown that other species possess even higher levels than those listed above.
An investigation of the filamentous microalgae Tribonema spp. demonstrated a sugar concentration of 18.8 g/L, equivalent to 81.48% extraction efficiency, following acid hydrolysis of the biomass.[119] Different microalgae from the Rhodophyta phylum, particularly Rhodosorus spp. SCSIO-45730, were investigated for its rich carbohydrate content and were found to produce total carbohydrates and β-glucans up to 242.6 ± 2.3 mg/L/day and 108.1 ± 4.0 mg/L/day, respectively.[120] Investigating the carbohydrate and starch production capacities of Chlorella spp. AE10 recovered productivities of 0.311 g/L/day and 0.421 g/L/day for starch and total carbohydrate, respectively.[121]
The most of the recent research on microalgae for carbohydrates is related chiefly to third-generation biofuels production in an attempt to produce bioethanol.[122] However, obtaining carbohydrates from microalgae biomass rely on releasing the sugars or starch from the cells. Although they are microscopic photosynthetic plants, microalgae do not possess lignified cell walls.[123,124] This aspect of microalgae makes it easier to extract intracellular contents such as carbohydrates or starch. Various pre-treatment methods exist, such as chemical hydrolysis, sonication, and microwaving.
Lipids from microalgae
PUFAs have multiple sources, most notably derived from marine and aquaculture, including fish, fish oil, fishmeal, crustaceans, and other products.[125] Based on the third level of dietary need, research is ongoing in finding microalgae that could replace fish oil, especially in terms of EPA and DHA.[126] These are produced from microalgae such as Pavlova spp., Nannochloropsis spp., Crypthecodinium spp., Spirulina, and Porphyridium spp.[80,118] Microalgae as a candidate for lipids production were also investigated, where EPA was produced at the peak of 13.1%, ARA at 30.5%, LA at 27.6%, and linolenic acid at 0.4% (under various conditions) with microalgae P. cruentum.[127]
While much research is driven for biodiesel production from microalgae lipids, the information also exists on PUFAs, which are undesirable for biofuels production due to oxidative stability and cold flow challenges.[128] Marine microalgae Skeletonema costatum were evaluated as a biodiesel feedstock, and the fatty acids profiling revealed the presence of ARA and EPA.[129] Tetraselmis spp. was also investigated for the same purpose and did show some content of PUFAs such as LA, linolenic acid, and EPA at peak values of 3.8%, 11.3%, and 4.9%, respectively.[130] These PUFAs, considered as essential fatty acids, contribute to the knowledge of lipids from microalgae.
The concentrations of the various biochemical compounds within the microalgae, such as PUFAs, highly depend on the environment.[127] Environmental changes in light, temperature, and nutrients affect microalgal growth and the accumulation of carbohydrates, proteins, and lipids.[131] Microalgal growth rate depends on pH and temperature for optimal lipid production, hypothesizing that various microalgae strains could yield higher PUFA content under specific conditions.[132]
Microalgae as a source of value-added secondary metabolites
Apart from the primary metabolites, microalgae are producers of biomolecules such as astaxanthin, lutein, beta-carotene, and chlorophyll-a.[133] Among the bioactive compounds, some tend to have antimicrobial properties. An increase in antimicrobial resistance undermines the efficacy of current therapies.[134,135] With only a small percentage of researched microalgae community, there is room for further discoveries of novel antimicrobial molecules. Microalgae such as Scenedesmus obliquus, Chlamydomonas reinhardtii, and C. vulgaris, among many others, are known to exhibit antimicrobial activities against Gram-positive and Gram-negative bacteria.[136]
Other high-value compounds are carotenoids such as astaxanthin and β-carotene. Scenedesmus spp. was found to be a potential source of these compounds when grown in wastewaters leading to increases of 2.8- and 5-fold against a control, respectively.[137] However, the richest source of microalgal astaxanthin is Haematococcus pluvialis, with yields reaching 1.5–3% of the dry weight.[138] This biomolecule provides perfect protection for the membrane phospholipids. In addition, it offers health benefits such as anticancer, immune modulating functions, and prevention of neurodegenerative disorders.[139]
Similarly, β-carotene, another carotenoid, is a valuable food colorant with antioxidant and cancer-preventive properties.[80] The major producer of this biomolecule is D. salina, which can accumulate up to 14% of this component as dry weight (up to 25 mg/L) under outdoor conditions.[140,141] D. salina production is currently at 1200 tons per annum in Australia, Israel, the USA, and Japan for the production of β-carotene.[142] Apart from those listed above, microalgae are also good producers of Vitamins B, C, and E, which are important to decrease fatigue, prenatal health problems, and antidiabetic compounds.[80] Commercially available Chlorella products have been shown to possess considerable amounts of Vitamin B2, C, niacin, and carotenoids, among many other constituents.[143]
The human body can only synthesize two vitamins (D and B3) out of the 13 essential vitamins. Microalgae have been found to contain all 11 essential vitamins and minerals required by the body. The cyanobacteria Arthrospira, also commonly known as Spirulina, was not labeled as a superfood coincidentally. Its micronutrient-rich profile can be seen in [Figure 3], with high B vitamins, iron, manganese, and sodium concentrations. Moreover, it has been found that Dunaliella spp. contains Vitamins A, B, C, and E and minerals such as Mg, Fe, K, Ca, Na, Zn, Cu, and Mn.[144,145] According to Fabregas and Herrero (1990), the levels of Vitamins A, B, and E were higher than conventional foods such as orange, wheat, corn, rye, and soya.[144] At a closer look, microalgae culture can simultaneously lead to various business opportunities as they contain value-added products from proteins to PUFAs.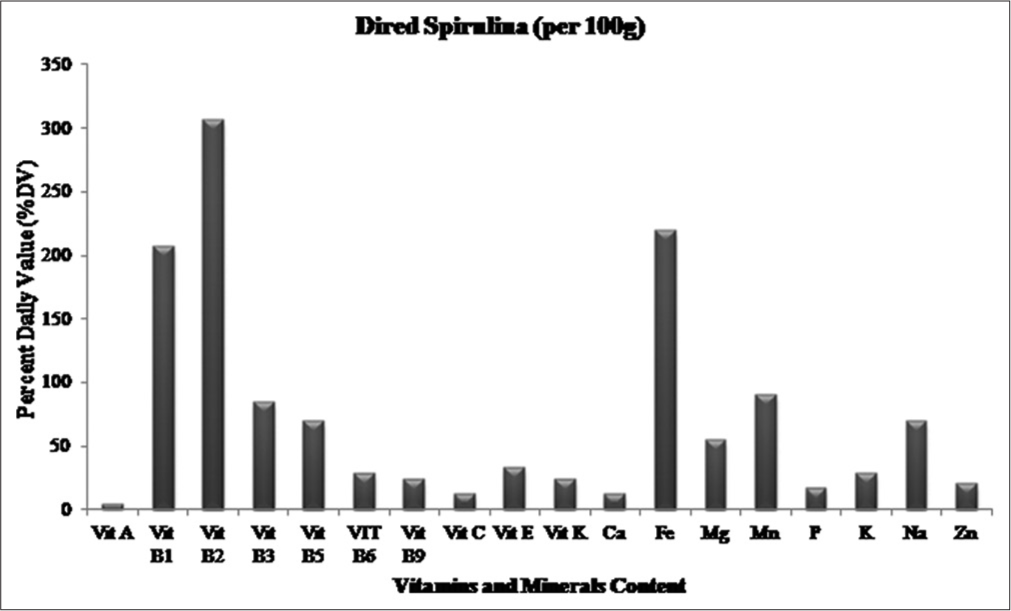 CURRENT STATUS OF MICROALGAE CULTURE
CONCLUSION
Over the past few years, nutraceuticals have gained significant attention as alternatives to pharmaceuticals in preventing and treating diseases. The wide diversity of compounds showing promising and positive health improvement effects is constantly being reviewed and assessed. Nutraceuticals can be categorized as antioxidants, carbohydrates, and dietary fiber, fatty acids, proteins and peptides, probiotics and prebiotics, vitamins, and minerals. These nutraceuticals demonstrated significant improvement in overall health by strengthening the body's immune system, fighting against CVDs, and preventing various cancers. The constant controversial debate of food production for consumption versus other uses led to the search for better alternatives in microalgae. Stakeholders and pharmaceutical industries shifting toward sustainable productions are offered numerous advantages with microalgae culture. Biomass production can assist in tackling multiple problems related to climate change, rising CO2 levels, and food security while promoting health benefits. With the dire need to increase food production by about 70% within the next 40 years, the concept of microalgae culture looks pretty appealing. They possess a variety of biomolecules, which have great potential as supplements, including astaxanthin, phycobiliproteins, beta-carotene, vitamins, and PUFAs, all having beneficial properties for disease prevention and treatment. These compounds can be incorporated into food products to enhance their nutritional and health benefits. Spirulina has been widely explored for its role in nutraceutical production, and its nutritional profile makes it a superfood. It is a rich source of vitamins, proteins, carbohydrates, and essential fatty acids such as EPA and DHA. Chlorella spp. are also excellent sources of vitamins, carotenes, and niacin. However, several other strains have been exploited for nutraceutical production, such as Dunaliella spp., Haematococcus spp., Tetraselmis spp., and Scenedesmus spp. Microalgae culture for nutraceutical production requires scrutinous examination before being launched. The whole process depends on the desired end product and its purity since such conditions will likely dictate the investments required and the final product's price. As elaborated previously, many culture vessels, such as the open pond and closed PBRs, can be adopted based on the targeted biomolecule. However, the downstream processing of the biomass still requires further investigation as this section in microalgae culture is considered the most expensive part. Nonetheless, microalgae as sources of nutraceuticals exist and can be further refined.
Declaration of patient consent
Patient's consent not required as there are no patients in this study.
Financial support and sponsorship
Nil.
Conflicts of interest
There are no conflicts of interest.
Show Sections